Factory Show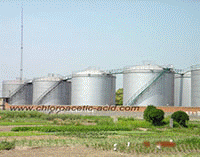 Home / About Us /
About Us
Located in Puyang High and New Technology Industrial Development Zones,Puyang Tiancheng Chem Co., Ltd. is a leading supplier and manufacturer of Monochloroacetic Acid and Chloroacetic Acid in China.Chloroacetic acid industrially also known as Monochloroacetic acid,MCA or MCAA is widely used in Carboxyl methyl Cellulose, pesticides,medicals,dyestuffs,oilfield chemicals,paper-making industries,foods and textile industries etc.
Our Monochloroacetic acid production factory was set up in Puyang which is one of the strongest chemical cities on the border of Henan Province and Shandong Province.We have built good cooperation relations with several well known Chlorine enterprises to keep rich raw materials with good quality from our city and Shandong Province for many years.It enables us stable production of Monochloroacetic acid with low cost in the long term.At current stage the annual output of Chloroacetic acid 97.5% grade is 10000 MT,Chloroacetic acid 98% grade 18000 MT, Monochloroacetic Acid 99% grade 20000 MT on regular basis.
To keep the stable Monochloroacetic acid with good quality meanwhile we still closely stick to the principle of customer-oriented & win-win business philosophy all the way.Therefore we have made great success in the production and sales of Monochloroacetic Acid these years.Nowadays we have established long-term stable partner relationship with many customers who in need of Chloroacetic acid from India,Russia,Turkey,Agentina,Korea, Pakistan,Brazil,etc.
Puyang Tiancheng Chem,as one of the main producer of Monochloroacetic Acid in China,is always dedicated to supporting customers in their purchasing cost down plan,and becoming one of the most efficient and most reliable links in the supply chain of Monochloroacetic acid.
Welcome friends at home and abroad to be partners with us at any time.